It's been an exciting time at Dalemead… In December, the brand new Orangery was completed.  It is a wonderful space which residents and their visitors can enjoy the view of the garden.  It also makes a great performance area for our musical activities.  The Christmas party was the first extra-special event to be held in the Orangery.  It was a lovely evening for residents to celebrate with their loved ones and staff.  We had a packed activities schedule with trips to the centre of London to see the sights and Christmas lights,   a performance of "Puss in Boots", a super concert performed by Richmond Community Choir and Christmas poetry to name a few.
The New Year brought with it fantastic opportunities for us.  In January we were treated to a concert at Dalemead, performed by Albert's Band (The in house band at the Royal Albert Hall).  We waved our Union Jack flags, sang along and sipped gin and tonics.  A very good time was had by all.  We were very lucky to be offered a residency from LIVE MUSIC NOW.  We had eight fabulous concerts courtesy of the "Jacquin Trio" during January, February and March.
We were very pleased to be asked if we would be interested in a visit from Nick Grant.  Nick is a candidate for the Labour party in our area.  We thoroughly enjoyed chatting with him and our question and answer session.
Watercolour Class … As well as doing Still Life we have been discovering the delights of Constable, Van Gogh and Monet.
The Easter bonnet competition was very enjoyable.  Residents and staff imaginatively decorated bonnets.  Residents also beautifully decorated papier mache eggs.  Here are some of the results: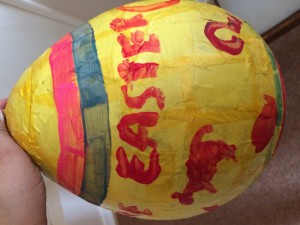 We continue to enjoy all the usual activities: poetry, art and craft, news and reviews, music and movement, quizzes, art class with Sadia and piano concerts with Dr Higgins.
We look forward now to the coming months when we can enjoy the sunshine from the Orangery, take trips to the river to feed the ducks/visit the ice cream van and have outside events such as the BBQ and cream tea.